Smooth Sailing Starts Here
The Sail Warehouse - Where Quality Sets Sail Since 1993!
Sails have
reached consumers
Satisfied customers
and five-star reviews
Recommendations by over 66 riggers & experts
The Sail Warehouse has over 1,000 sails and canvas items in-stock for most popular boats under 32 feet. While we offer options such as colored Sunbrella on our Roller Furling Headsails or Batten Types on our Mainsails, we may not have all options in-stock. If you see an option is sold-out let us know and we can special order it as a semi-custom sail.
In our database we have over 100 boats and 425 sail sizes. If you find a sail size for your boat, but want different options from the color of UV Sunbrella on our Roller Furling Sails, or a Cunningham, batten types or number of reefs for your Mainsails. Just let us know and we can order a semi-custom sail for you.
If you can't find a sail that fits your boat, or want a custom size, we can custom order any sail for any boat. Out Custom Sails are all made by Rolly Tasker Sails for quality and durability. In the last year we have made Custom sails from Mainsails for an O'Day Javelin to a Code 0 for a Beneteau 53. Rolly Tasker can do it all.
With our user-friendly online store, you can browse and order sails from the comfort of your home, avoiding the hassle of traditional sail-buying processes.
Since 1993, we've been partnering with the leading sailmaker, Rolly Tasker Sails, ensuring top-notch quality and performance for your sailing adventures.
Explore our vast inventory of over 1,000 sails and canvas items, tailored for various popular production boats under 32 feet.
Our everyday low prices beat the competitions Sale Prices
The Sail Warehouse Since 1993
In 1993, Jim Johns an avid sailor, wanted to create a new way of buying sails. Instead of ordering a calling several lofts to get a quote, then ordering and and waiting 6-8 weeks. Jim decided that ordering sails should be as easy as selecting it from a catalog and placing an order online for delivery in time for the next weekend.
Jim worked with Rolly Tasker Sails, the leading sail maker for Offshore, Cruising and PHRF Race boats to build sails for over 100 popular production boats under 32 feet. Working with the top sailing magazines of the time, Jim sent his catalog out to thousands of sailors throughout the US and Canada.
Fast forward to today, and we still offer great sails at a great price only online. With over 1,000 sails and canvas items in-stock in our warehouse, we are able to ship the same day so you have a sail in time for the next weekends activities.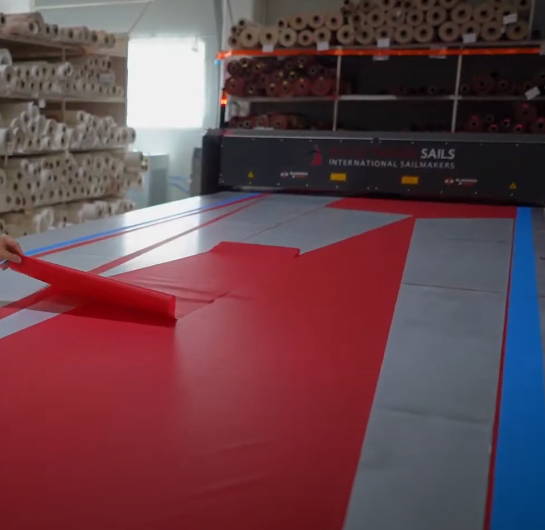 Featured Reviews From Our Customers
"I couldn't be happier with my purchase from The Sail Warehouse! The process was smooth, and their website made it easy to find the perfect sail for my boat. The sail's performance exceeded my expectations, and the quick shipping ensured I didn't miss a single weekend on the water."
"As a seasoned sailor, I appreciate the quality and craftsmanship of sails. The Sail Warehouse's collaboration with Rolly Tasker Sails is a game-changer! Their wide selection allowed me to find the ideal sail for my boat, and the delivery was incredibly fast. I highly recommend them to fellow sailors."
I'm new to sailing, and The Sail Warehouse made the whole process stress-free. The staff was knowledgeable and helped me choose the right sail for my needs and budget. I'm grateful for their support and prompt delivery, making my sailing journey a smooth one!
"The Sail Warehouse stands true to its name - a true treasure trove for sailors! Their vast inventory, coupled with their commitment to quality, earned my trust. I've purchased multiple sails from them over the years, and each one has been outstanding. Thank you for enhancing my sailing experience!""